Costs of delay
Cost of delay is 'a way of communicating the impact of time on the outcomes we hope to achieve.' More formally, it is 'the partial derivative of the total expected value with respect to time.' Cost of delay combines an understanding of value with how that value leaks away over time. (Wikipedia).
It is no surprise given this definition that different types of work have different costs of delay. There are four main cost types which align with four broad categories of work. Each is explained below to illustrate the delay cost over time, some examples of the types of work these apply to and a relative indication of short and long term costs (Essential Kanban Condensed).
Expedite work: high short-term expense, huge longer-term costs
Expedite work is typically very high urgency and there's no point in the future where the cost decreases - it just goes on increasing. Expedite work could include situations like a live incident requiring configuration or code change to restore service, or a newly-discovered design or build issue which is blocking us or a client from delivering or obtaining value.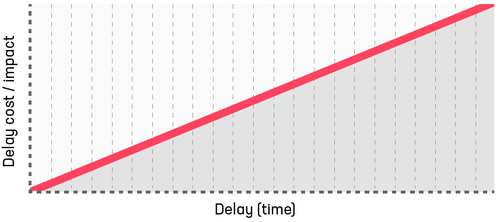 Fixed date work: no short-term expense, moderate longer-term costs
Fixed date work is the most predictable in that there is typically no cost until a one-off impact on the date. At the point the cost is incurred, it typically doesn't increase. Fixed date work could include a contracted client delivery with a fixed date or a live incident with an associated SLA.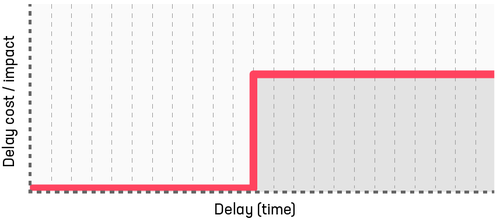 Standard work: lower short-term expense, moderate longer-term costs
Standard work is typical, has 'regular' urgency and no fixed date or penalty. The increasing cost of delay may tail off as value is lost and tends towards a total cost over time. Standard work could include new features on the product roadmap, enhancements to existing software that improves the user experience or productivity or a non-critical bug with no fixed SLA.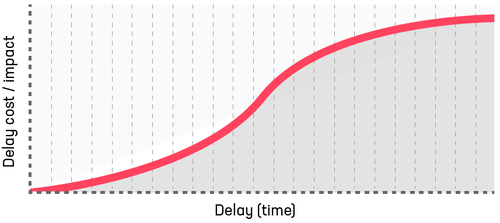 Intangible work: lower short-term expense, moderate to high longer-term costs
Intangible work is the most difficult to conceptualise (hence the appropriate name). This work is typically perceived as low urgency in the short-term. Longer-term, as time passes, this may be followed by high urgency. Examples include improving practices to keep us competitive in the marketplace, repaying technical debt and adopting new technologies and tools.