Why investment management businesses should simplify
Simple means scalable
Scalability remains a significant issue within the wealth management industry, with costs surging and engulfing any growth in revenue. Using the definition of 'scalable' as a profitable firm that achieves revenue growth and an improvement in profit margin for a given year, just 13 out of 162 firms in the UK were scalable in at least 4 of the 5 years between 2015 and 2019. For most years approximately one in three firms were scalable, but consistently being scalable is where too many firms fall short – a result that is true across all firm types.
Proportion of firms that are 'scalable' per year across the wealth management industry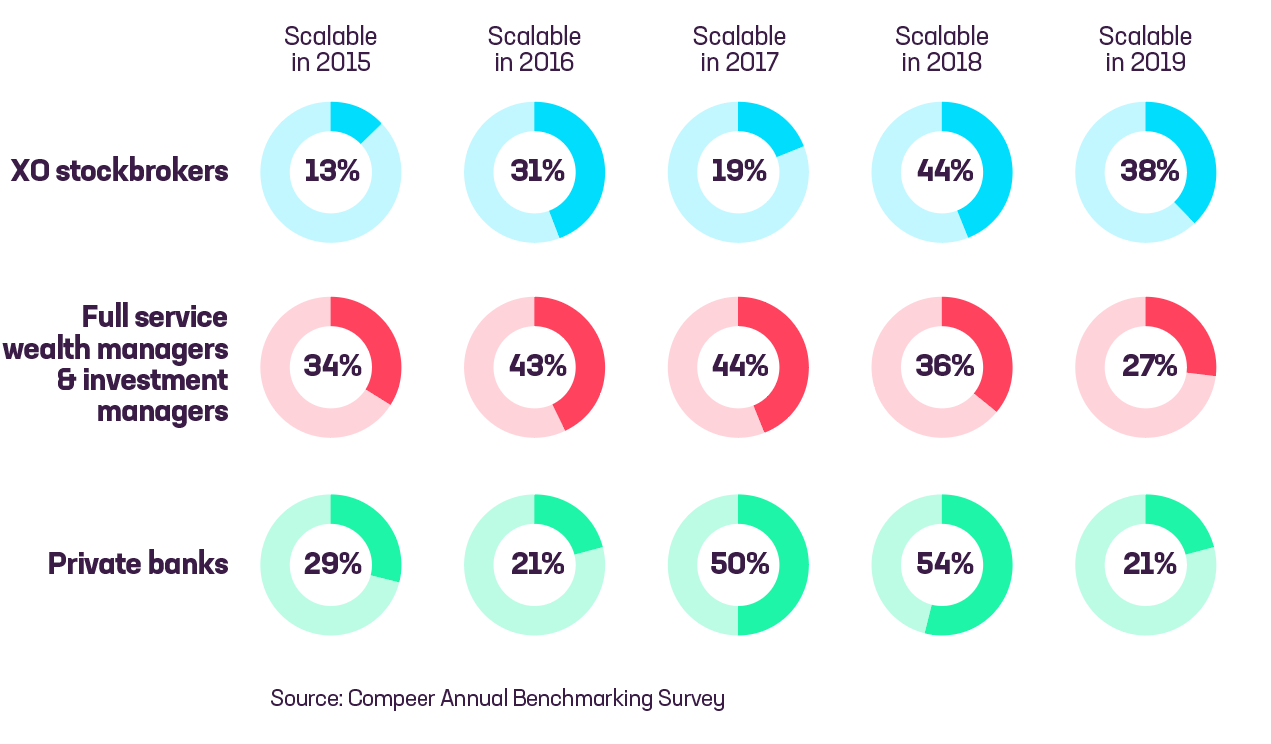 Joined-up technology is a key solution to this problem. It enables organisations to manage many different propositions and relationships with different types of clients through just one system, allowing firms to capture more clients without costs rising in parallel. Therefore the revenue boost instantly supports margin improvement.
Avoid the 'Swivel Chair' effect
So much time is wasted entering client information multiple times than having to access various portals and systems to find this information when it's required. By using integrations in the pain points a firm can achieve a single client view or single client record. For example, if firms are using different platforms to implement investment changes, simplifying by using integrations allows you to continue to use those platforms but from just one screen. This improves client engagement and speed of response. Never again will you have to look in different places for information when a client calls!
Naturally, service levels also improve, potentially boosting the likelihood of referrals (a key source of new business for firms). It also allows front office staff to improve productivity as less time is required per individual client.
More consistency means better client service
Where client reports for one service proposition may have looked different for another service proposition, they now look consistent and hold accurate, up to date data. Ultimately a firm will be able to have one system offering a better experience for both the client and their internal users.
In a survey of 500 end investors undertaken by Compeer in November 2020, 47% stated that significant improvements are required in reporting, with the same proportion wanting significant improvements in client portals and 44% wanting immediate changes to the on-boarding process.
Less risk and (possibly) better investment performance
One source of data means less risk and improved monitoring. For example, firms will not have to worry about market data being priced differently in different systems, and there is only one source for a firm's investment strategies.
This could then have a knock-on effect for improving investment performance as timing can be vital for investment opportunities. Improvements in investment performance can only be positive, especially as this is consistently the main criteria clients use when both selecting a wealth manager and staying with them for the long term.